To All my awesome friends and family members: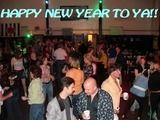 This pic looks fun but is so NOT what we are doing tonight! It will just be a homey NYE with Jay and I, get the kids to bed, make some yummy appetizers, open a bottle of good wine, maybe play Scene-It, which is our new fave game. Ahh, I am looking forward to it very much.
Hope everyone has a great night tonight, whatever you do, ring in the New Year with gratefulness and love.
A.