All I wanted for Christmas is......
Monty's four front teeth.
We had a nice Christmas around here. Lots of food, lots of presents and crazy christmas chaos.
The one glitch was a little event that happened on Christmas Eve, after I had put Monty to bed. An hour later he came running out of his room screaming with blood pouring out of his mouth. It seems that he tried to tie a shoelace around one of his teeth to pull it out. The shoelace was hanging from Sam's loft bed. Monty was sitting on the edge of his (much lower) loft bed with the shoelace in his mouth and he fell. Basically hung himself by his teeth.
One tooth was about six feet away. The other was nowhere to be found. The two teeth in the middle were almost ripped out but not quite. The dentist took them out on saturday. So in one night, the kid lost four of his beautiful baby teeth. And almost gave me and his father a heart attack. The blood! The shaking! The not knowing what the hell had happened! We spent a few hours at the emergency dentist on Christmas Eve.
And one of the kickers too is that jay just changed jobs and we have no dental coverage for three months! So a nice little four hundred dollar expense right at Christmas! I am overdoing it! on the exclamation points but I can't help it!
For dramatic effect, here is how monty looked before Christmas eve.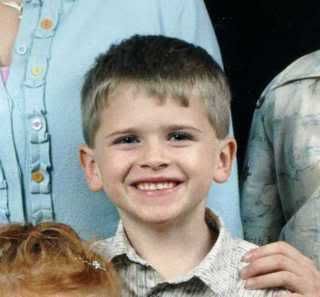 So cute! Like a kid in a crest commercial!
And here is the after!
Are you ready?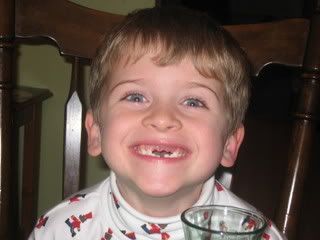 I
know
. At least he is still smiling, eh. Again, I write these three words....
What a kid.
Well, happy new year to everyone. May 2007 be
your
year.
A.