Punk Mower
Wish I had had my camera on me yesterday. Just down the street from my house lives this young guy. He is probably about 20-21 now. I have seen him metamorphose from this chubby dark haired kid with glasses and a huge facial birthmark to a thin punk rocker guy. It is fascinating how different he looks. He always says hello. He still has the birthmark, but it is kind of upstaged by his punk-ness.
He has this incredible mohawk. It is at least ten inches long and two toned. It looks like this big fan when he turns his head. He wears the punk standards, the plaid pants, the bracelets, the black shirt with the cutoff sleeves.
And yesterday I saw him mowing his neighbors lawn.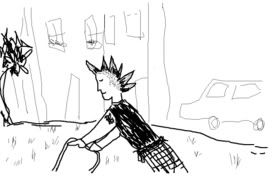 Man, a camera would have beeen good. What a neat image, of this guy bent over the lawnmower, pushing it uphill, with his bird of paradise hair and his 18 hole Docs.
Cool, man.
A.