Slacker
I am. I just haven't felt much blog inspired. Hey, I been pretty steady for 19 months at it. Just gotta recharge my batteries or something.
Tonight we are off to my neice's 2nd birthday party. Happy Birthday Maddy! Luckily I picked up the gift last week, so I am prepared for once and there will be no need for a lightning quick trip on the way there to find something.
I am in love with a new perfume. It is called "Promesse" and it's by Cacharel.
Here is a picture of Lucy having a fling with a cup of yogurt.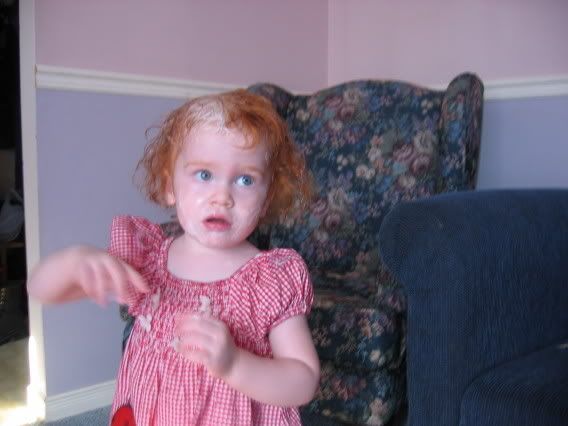 Chiaahh, she looks like Gene Wilder.
One kid back to school, one starts next week, for the afternoons only. But it will be nice nice nice.
And I am taking the Slavery course. Starts tuesday. Looking forward to it.
gotta go! MIL needs a ride somewheres.
Promise to be more prolific next week.
A.