Ebay cracks me up
Here is a description for bracelets,
"You are bidding on 12 brand new alpaca silver Bracelets. Beautiful bracelets that you will be able you enjoy in any occasion, in this awaited appointment, with which you will be able to impress it, you will be the envy of your friends, or that such in your night of holiday. Prove you!!!!"
It almost sounds impressive, then it gets funky. Prove you!?
I am sure if I tried to write something in say, hindi, using a hindi/english dictionary, it would sound very much the same.
I do like the expression, 'night of holiday', though. I'm stealing it. I want a night of holiday!
Don't we all.
Saturday I went to a street festival and bought myself a bracelet.
And three packs of these night of holiday paper plates.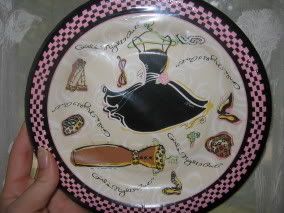 Yesterday we had a family picnic. My boys spent the entire time in the creek catching crayfish. And my darlin' baby niece was looking goooood.
Okay I better go, babysitting this morning. This post was started at 830 am and its quarter to eleven.
Toodles!
A.