Saw "The Interpreter" last night. It was decent. I had a few teensy naps, like this: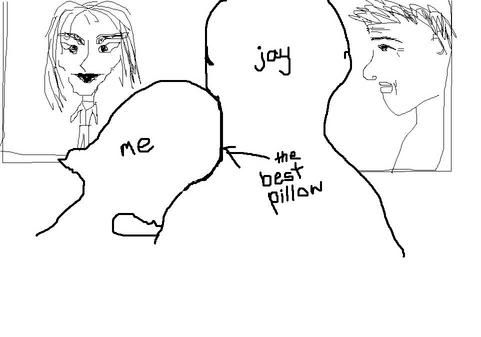 You can see that Nicole Kidman is eventually going to become a head on a shish kebab stick. And that is Sean Penn on the right, who was pretty great in this movie.
Jay brought home a Caramilk chocolate cake (23.95 at Fortinos grocery store - only a guy would spend that much on a cake without batting an eye) and Rolo ice cream. The kids loved it. As did I, even though I had already treated myself with the Deningers. (Hands up whose capris gonna be tight this weekend?) And he got me a celebrity hairstyle magazine, because I had been saying I am after getting a new style. Saints preserve us, sometimes they actually hear what we say.
So today I am BACK to Snobbing Honda so they can continue their tests on the air conditioning. Not my favourite way to spend an hour or two but whatevah.
I am almost done ROOTS. I feel like I have been through it all with those people. It is a GREAT read. It is a saga. An adventure. A historical piece. What these people went through. And I whine about the price of gas per litre. Well, actually I don't, I just can't think of a good example. But you know what I means.
Alright, gotta go!
A.