It's a black n white birthday.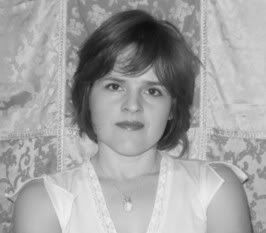 Better than a black n blue birthday I guess, eh? I would have put it in colour but then you would have seen where I squeezed a few zits that showed up this morning. Didn't want to remember my 35th birthday with a picture of THAT.
I do not feel 35. That is like, how old my mother was when I was like 11 years old. I remember her being 35. She had a perm. And her hair was going grey pretty good. Now she dyes it, (Well, Luis Navas at Salon Madrid dyes it) and it is coppery red and gorgeous. I have so far managed to either yank out the grey hairs or they get covered up by my once every three months Miss Clairol Lovin' Care session.
Gotta take Monty (and Sadie, I remembered for three days in a row, yay!) to school soon. I will reminisce more later about birthdaze and other nonsense later.
Have a good one!
A.