Happy Early Birthday to Me.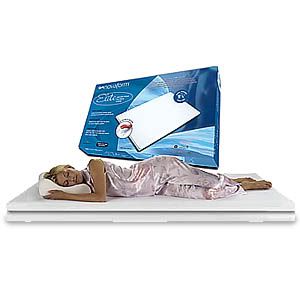 After months of thinking about it, I bought this. It is the
NovaForm Elite "Memory Foam" Mattress Topper
"
Developed for NASA to provide relief for astronauts undergoing G-forces, this revolutionary "Memory" foam mattress topper immediately responds to your body's heat and molds around you, relieving pressure points and improving circulation. With exceptional therapeutic cushioning and support, you will enjoy a peaceful night's sleep and wake up feeling refreshed and rested
."
And it's TRUE. I have suffered (And I mean SUFFERED) from restless legs and restless sleep for years. I can be tired beyond tired, go to bed, and lie awake till 4 am tossing and turning until I could cry. It has gotten worse during pregnancies, and as I get older (blech) I find that it gets a little worse every year. Poor Jay has been sleeping with Mrs. Fidget all this time. So not only have I been getting poor quality sleep, so has he.
I have taken iron, cut back on caffiene, taken multivitamins, antideppressants(which made it worse), clonazepam(which caused me to have a little car accident because I was drowsy), lorazepam (which did nothing), gravol, actifed, and other items I can't even remember. I have gone for a brisk walk before bed for a month. I have stretched more than a yogi master. I have pummeled my legs with my own fists, taken scalding hot baths and freezing cold ones.
I have tried alot of things. Probly not everything. But an A plus effort nonetheless. Once I even took a crib mattress and slept UNDER it to try to keep my legs from wanting to move. Didn't work.
But this memory foam mattress cover. It might be the thing. I have slept for the past three nights. Not right through the night, but definitely I have slept harder than I have in a long time. I think it is because the foam sort of hugs your body and keeps it in place. It really is lovely. You feel yourself sort of sink into it like quicksand. But without the whole drowning thing. You only sink so far.
I am impressed with the Novaform Memory Foam Mattress Topper. It was expensive, $144.95 plus tax, but hey, what is sleep worth to you?
Besides, I got it at Costco. Where they have the delicious money back guarantee. So if this is just the honeymoon phase and after a week I am still tossing and turning, I can take it back.
But I don't think I will. I hope I won't. I want to sleep when I am tired. It is such a simple thing until you can't do it.
Alright, well, Army's self indulgent Novaform post is over and OUT.
A.