Halloween Hijinks at the Forderers.
This was taken just before Trick or Treating. Monty is Darth Vader (sort of), Lucy is a Hydrangea, and Sam is, of course, Harry P.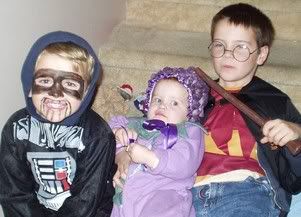 We had FUN. We went to all our neighbors houses and Monty was lit up running from pumpkin to pumpkin and saying "THANK YOU!" before "Trick or Treat!" Lucy kept going, "Daaeee!" (DaddY) and Jay would say, "Yes Luca!" and she would go "Waaooow!" and point to everything. I have to say it was cute even after the Fifty-first time.
They got great stuff. I am going to start in on gaining the ole Christmas five (lbs that is) sooner than expected. Monty woke up this morning and before his eyes were even opened he said, "Can I have my Candy?!" Jay said, "No, buddy, not in the morning. Monty said, "Can I look at my Candy?"
We didnt have as many kids as last year. What a shame, eh. Leftover food kinda sucks. Leftover candy rocks.
A.