Workin' At The Mall
I did my first shift at the candle booth last night. It wasn't bad. It is a pretty big booth, and I must have walked around it six hundred and forty eight times. My eyes were tired by the end! It wasn't that busy, so you know how it is when you are trying to sort of look busy, I windexed the glass and straightened the boxes of candle holders, walked around. I wanted to sit on my little stool more but I am too friggin short and when I was sitting on there I could barely see over the top of the candles if there were customers looking or not. I sat on my foot for a bit for some height but then my foot fell asleep.
I was nervous when I got there! What a weiner. Not because it is some high power job ha ha, but I haven't worked outside my house in like, five years. And I had to do the wheelin and dealin babysitting tango before I left. Each kid went somewhere different. So by the time I got there my stomach was all knotted up from being outside my comfort zone. Blech.
The girl that was there in the day trained me for an hour. And just before she was leaving I went to get a tea and to hit the bathroom, because I would be alone for four hours, no breaky breaky. So I am walking with all this cash register/debit/credit card information in my head. I had a pretty good handle on it. I got a tea and walked back, feeling a little sassy in my criss cross top and tweed Aline skirt and maroon boots.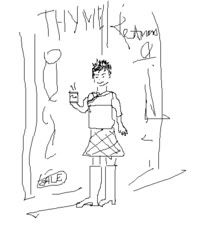 But I must have been too in my head. Because then I walked INTO A WALL.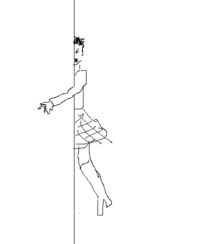 I didn't see the corner. And OOF! My tea went all over. One side of my short, spiky hairdo went flat. And I felt like a complete and utter idiot.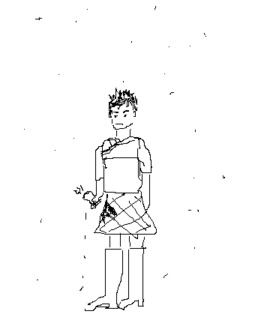 Luckily alot of other people at the mall must have been in their own heads like i was, because as far as I could tell, nobody really noticed. In the movies that would have been the part where Julia Roberts or Sandra Bullock crashes into the wall like a beautiful klutz and lands in the arms of some hunk. In real life you just kind of look around like 'who put that wall there?' and then when you see that noone really noticed you sort of walk away from the scene of the crime, wiping the tea off your hands onto your skirt because it is brown and anyway already has tea on it.
And then you do your four hours at the candle booth. And then you go home.
A.