All I want for Christmas....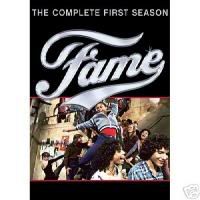 Oh, the Sloan kids loved this show. Doris, Leroy, Bruno (my favorite person on TV after Gopher from Love Boat and Erik Estrada), Coco, Danny Amatulo (also very cute, In '84 I danced with a guy at Sandy's school who looked a little bit like him, oh! my heart.) Mr. Sharofsky, the blonde teacher, Debbie Allan ("You want Fame? Well, Fame costs. And you're gonna pay right here. In sweat.")
What a great show. I honestly thought high school would be like that, with people dancing on the tables out of nowhere doin the Hot Lunch Jam. And I could sing "Starmaker" like nobody's business. Bruno was so cute. I remember when he did a song about Mr. Sharofsky. "Here he comes, flappin his gums, what's he gonna say? have a nice day?" I can't believe I remember that.
If you are a FF (Fame Fan) why not treat yourself to
this.
I have watched it three times this morning. I know. Leroy's split leap at the end almost makes me cry. Especially since he is gone now, he's dancing with the angels. Poor guy.
"I'M GONNA BE A DANCER! A GOOD DANCER! YOU KNOW WHO SAYS SO? ME!"
A.