Stuff Portrait Day
Kudos to
Kristine
for keeping this going. It's fun, and even though I don't play every week, I love to snoop on other people's stuff.
First is a Tacky Vacation Picture.
I couldn't find any but I did find this. This is me, my dad holding me, my sister Jen, and my Uncle David, on a camping trip in 1972.
What is with the shirt I am wearing? What alley was it dragged through before it was put on the baby? If you look at my right hand, you can sorta see the big ole bandaging I have on it. I had grabbed a knife, blade in, and cut my hand open. So it is all taped up. Pretty tacky, eh.
Here is something my kid made.
Love the colours on this. Makes me Happy.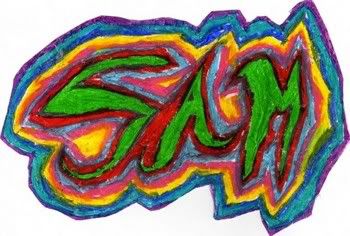 And my brush is boring boring. So I won't bother.
And that is all.
Toodle-oo. I am off to get groceries for the thirty five or so people coming over tomorrow for Sam and Monty's combo birthday party.
A.