I'll bet she has a temper
What's with people and red hair? Pretty much every time I go somewhere with Lucy some busybody/noseyparker/loud talker type has to stop, look at her, and say, "WHOA LOOK at that RED HAIR! SHE MUST HAVE A TEMPER!"
It's very irritating. And I have to say that it is always someone older than me, from a generation that was sure of three things,
1. Saturday night is bath night.
2. A Hot Hamburger Sandwich with gravy and peas is gourmet cooking.
3. People with red hair have a bad temper.
Get over it, people. Red hair don't mean el dialbo. It is just hair. Just like, say, your big hook nose doesn't neccessarily mean you are a WITCH. Or your tight short perm doesn't have to make you part poodledog.
Honestly, how does THIS make someone think of a bad disposition?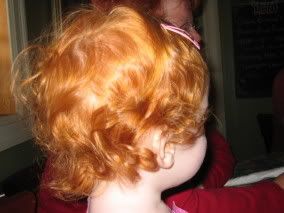 A.