Buh-Fore
Hair Cut Day.
As much as I like my hair the day the hairdresser does it, with the straightening iron and the blow drying with the round brush and la de da day, I can NOT reenact the look. Ever.
So everyday, pretty much, my hair looks like this.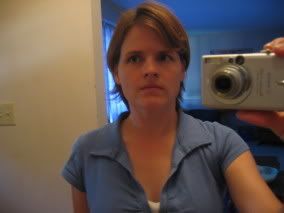 Blech. I am off to get a short razor cut. Something that I can wash, put some gel in, and then push around a little, and that's it. My hair isn't even long, but it bugs me. It's too short to put in a pony and too long to stay off my neck. So off with her hair, the Queen shouted.
Ciao.
A.