Mondaying like a cold bowla oatmeal
Or something like that. My attempt at a gerund, I fear, falls flat. Sorry Mrtl.
Weekend was gooo-oood. We GOT AWAY WITHOUT KIDS FOR A NIGHT. First time since February. Lovely. Went to Jay's work picnic/party at his boss's place. Which, can I say, is awesome. Right on Lake Erie, big two story log cabin. Private beach. Filet Mignon. Other peeps brought kids but we chose not to. And it was a good decision, as all I would have done is chase Lucy around and around and upside down. As it went, I got to sit in my lawn chair and eat my food uninterrupted. Ahhh. And chat and converse and mingle and enjoy the bonfire and the waves lapping at the shore. And the sunset. Which was like a watercolour painting of salmon and blue.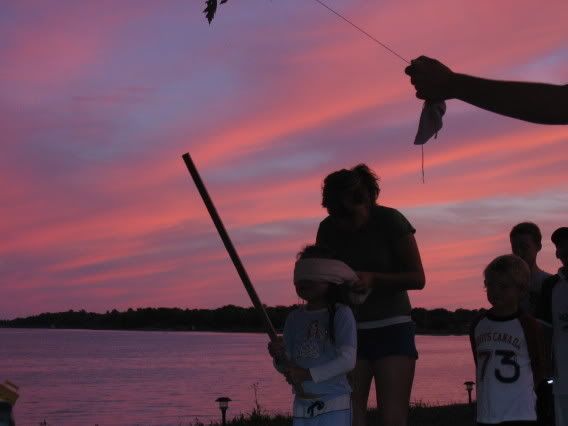 Wish I could write more, but I can't. Kids.
Later Gator,
A.