postess with the mostess
It is such a different feeling, now that it's November. I love that dark after supper light a candle cosy feeling.
Sam is playing indoor soccer this season. He has gone hog wild for soccer this year. He walks around the house balancing a soccer ball on his foot like Ronaldinho (sp?). He had a game last night and played well! Woo hoo! Two goals and an assist! He has never been a real sporty kid, more into drawing and violin and trying to teach himself chinese. But now it's all about le football. And what a rush to see him scooting around the field, making contact with the ball!
Jay bought the treadmill. It's bloody huge. It will be handy for hanging clothes on, I am sure. I may even string some Christmas lights on it. I will try the treadmill, of course, but I make no promises. I hate working out. When everything is done (which is never) around the house, the LAST thing I want to do is exert myself. There is just so much great TV to watch and books to be read and surfing to do. On my arse. In a chair.
Tomorrow is Saturday! That means German school for the boys and orchestra practice for Sam and music team rehearsal at church for Jay and I in the evening. Saturdays are busy for us. I also plan to hit a couple of church Christmas bazaars with Luca while German school is going on. LOVE bazaars. Penny sales! Baked goods! White Elephant table!
Picture time. Kids on Halloween night.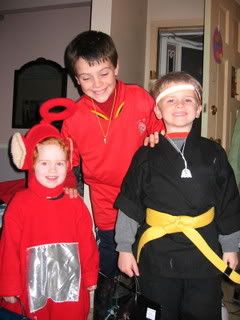 Lucy is wearing Sam's Teletubby costume that Grandma made him when he was three. Monty is a karate guy wearing his own gi because the Power Ranger costume I got him second hand did not come with a mask so he refused to wear it. Sam is, what else? A German Soccer Player.
Have a fantabulous friday folks!
A.