Way Back Wednesday
I think this was started by Mama Duck. I found these old student bus passes from my first and second year of University so I scanned em and here they are.
Sixteen and Fifteen years ago I looked like this: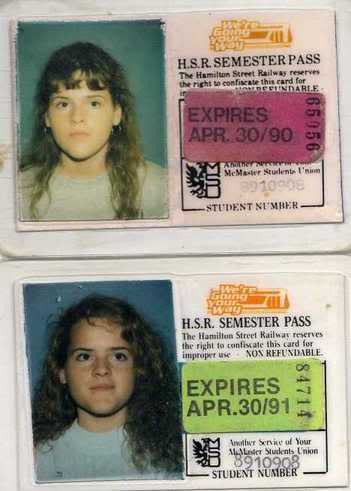 I am not sure why I look so sad in the first picture. Maybe my barrette was too tight. The fashion of the day was a huge gray T shirt with cutoff at the knee white jeans. And yes ma'am I tucked that massive T shirt in just
so.
VERY flattering!
The second picture is a little better, except one of my eyes seems to be wanting to laze off. That was a perm grown out from ten months before, if you can believe it. That perm, it could have taken over the world, survived a bombing, scrubbed a thousand pots clean. That day I was wearing a sleeveless sweater with a denim mini skirt. Not so mini compared to the cooter skirts they wear these days.
I look quite hopeful and studious in the second picture. Ha. Couldn't have known then that I would totally fail every single class I took that year, by just not showing up, ever. What a dork. What a waste of two thousand five hundred dollars of my parents money. I had to jump through many, many university hoops to get back in.
Alright, better go.
A.