Back in Tha Day - 80's SPD
1988. Grad dance. Couldn't get my hair BIG ENOUGH.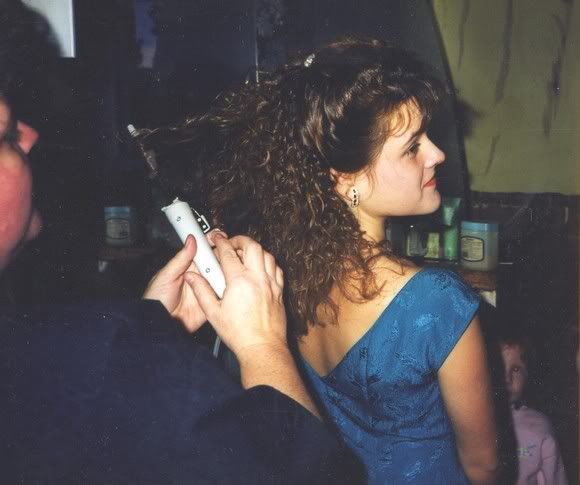 "MA! Come on! Where is the Final Net?!"
"Right here! What am I doing with this curling iron?"
"Just pull pieces out and curl them! My hair needs MORE VOLUME!"
"It looks pretty big to me."
"IT'S TOTALLY FLAT!! Keep curling it and pulling it higher!"
Something I kept from the 80's would be this little note, scrawled on the back of an envelope and taped to my sister's dresser mirror. I am not sure what compelled me to keep this, but I am glad I did. It totally brings me back to the chaos of our house, with four teenagers at once. I think I was about sixteen when I wrote this.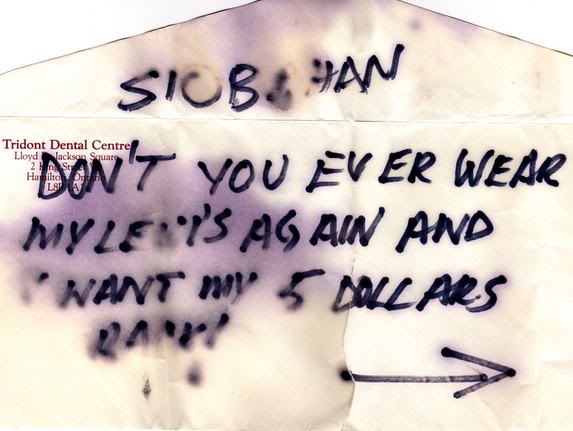 It reads, "SIOBBHAN, (my sisters name), DON'T YOU EVER WEAR MY LEVI'S AGAIN AND I WANT MY FIVE DOLLARS BACK!"
On the back it says, "DON'T IGNORE THIS NOTE!!"
Ah the sweetness. We were so vicious when clothes were borrowed without asking. Once she threw my desert boots in the pool because I had taken her ALDO boots without asking. Another time I came into the bathrom, and she was bent over the tub, washing her hair with the tube thingy, and I kicked her in the ass right into the tub, because she was wearing my underwear.
Another thing I kept was this flyer from a dance.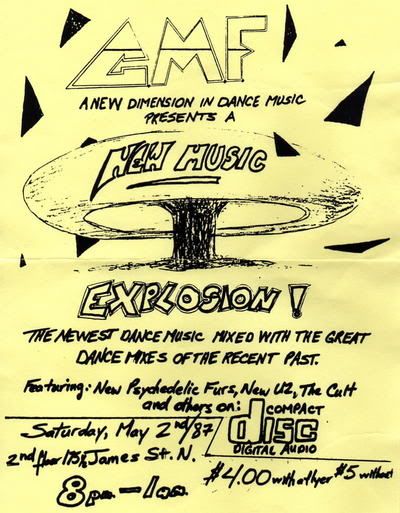 I love how even the "compact disc" logo is hand done. That's when CD's were just coming out, mostly everyone still had cassette tapes. I don't even know if I went to this dance, but I went to a few like it that year.
I had to post this next picture. It is me and the gals at our Grade Eight Grad dance, hanging out on a table outside the washroom! Beware, you may go blind from all the ruffles. It was 1984.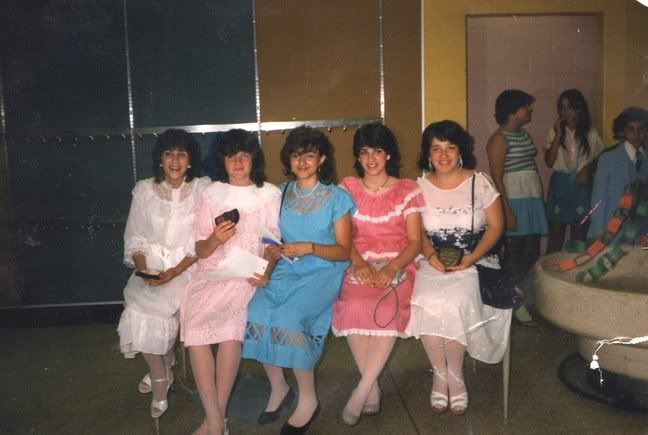 And because I am so, like, totally sure that some of you will want to see my whole dress, made by my mom, here it is, COMPLETE WITH A HAT.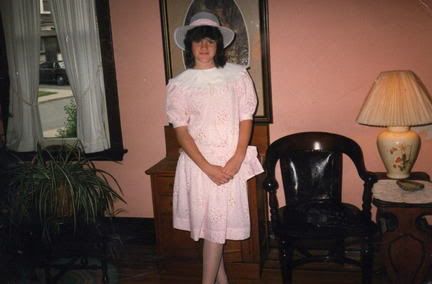 How times have changed. Could you even imagine a fourteen year old wearing a dress like this today? It always makes me laugh that I thought this was so grown up. I mean, I look like I am some turn of the century English girl, about to chase a hoop down the lane with a stick.
And lastly, the 80's movie that I have on VHS and plan to have for a long, long time. I don't even have the case anymore, so I took a picture off Amazon because that black VHS tape just don't do these people justice.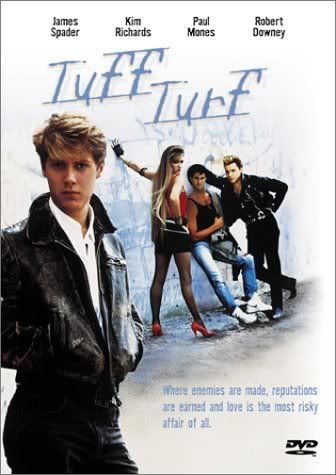 I just loved Kim Richards when I was a kid, with that long hair. But this movie was a pretty far cry from Escape to Witch Mountain. It's totally bitchin'. If you haven't seen it, like, ever, go rent it.