Last days of school
When I was finishing grade eight I got a little camera from the Big V Drug Store. And Sandy and I took all these pictures of the last few days. I think this one was the last on the film.
What a weiner.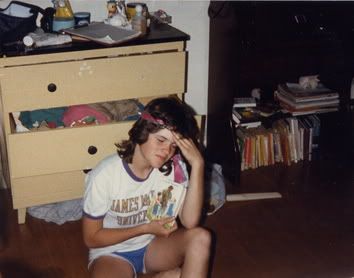 For some reason I thought it would be really funny to put a scarf around my head and hold my Living New Testament. Gotta love my two different hair cuts on the same head.
And as you can see, I was as much a slob back then as I am now. If I hadn't been, though, this picture wouldn't be half as much fun for me to look at. There are all my beloved books, "Pistachio Prescription", "The Cat Ate My Gymsuit", all the Judy Blumes. I can tell just by their well worn spines which ones they are.
And on my dresser is my Ms. Pac Man tin, my ceramic bunny that had the cotton balls coming out of its arse. My girl statue that sits on my dresser right now. In the drawer is my fuschia eagle sweatshirt. And you gotta love a detail like a vacuum cleaner attachment under my desk, in a room that maybe got vacuumed once in four years. I probably used it to make a straight line because I had lost my ruler.
I am going to find a few more of these pics. I may even have a MR CRONK in there somewhere.
A.