I have been scavenging the house for an old picture of Jay. There is a grad photo that will give you shivers, if you ever had the hots for Bon Jovi or the like.
You would think I would put this kind of thing in a reasonable place. Nope. not me. I will find it in the bathroom drawer or underneath the blender up in the cupboard sometime.
I lost my wallet. My beautiful green and pink wallet with all my beautiful credit card/id/student card/library card/health card/20 dollar bill/receipts from stores for magical nail remedies/and other stuff. I discovered it missing on Saturday.
But I was not alarmed.
Why would I be? I knew it was somewhere around here, it was just a matter of turning a bunch of stuff inside out. I have lost it before, and I always find it. There is no need to cancel credit cards when you are like me. You just sift few the piles and eventually the cream rises to the top.
I found it yesterday. It was tied up in a plastic grocery bag with (get this) a bunch of GARBAGE I had collected out of my van. WTF? I don't remember doing this. I guess I had been gathering up the coffee cups and papers and pieces of bagel, and thought, might as well throw my wallet in here so I don't lose it?
Weird. Person. I. Am.
Yesterday we went to my ma and pa's for dinner. Fun. I figured out my new camera!!! See if you can spot the added megapixels. There is like, two thousand of them.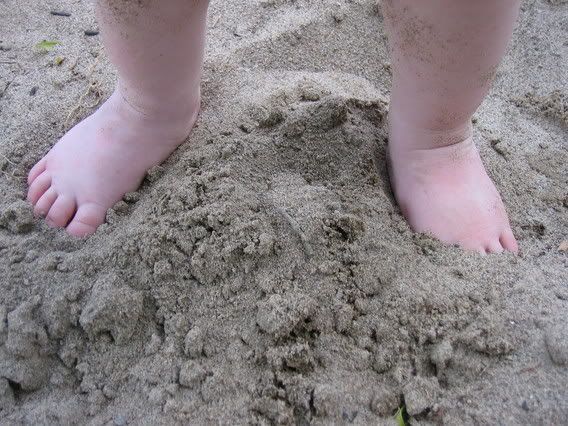 Lucy's feet in the Sandbox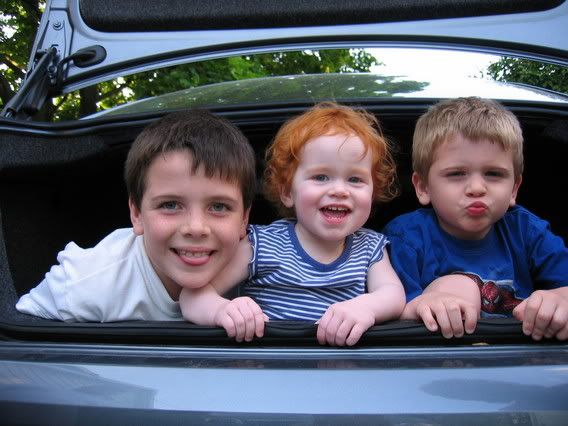 Kids in the trunk of Grandma's new 2006 Volkswagen Jetta Diesel.
Sand? I haven't eaten sand for MONTHS! Why??
A.