My very own Karate Kid.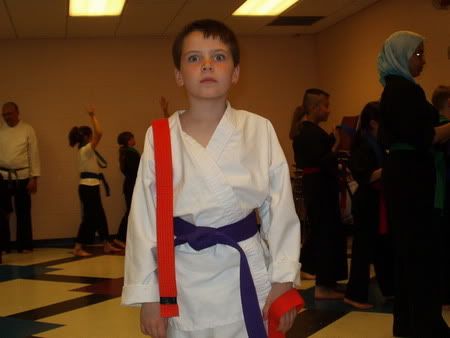 Purple belt! Hi-Ya!
What's with the eyeballs though. He gets embarrassed when I take his picture in public, so he is always like, "Come ON, Mommy! Please just take the picture!"
I am so wanting to get a new digital camera. Mine is three years old. And it is just not cutting le moutard anymore. It takes fifteen minutes to recover from taking one picture. So you are waiting, your subject has run away or flown away or is looking away, and then SNAP! You get a lovely pic of the back of a head.
I am up early! Already had me shower and it is 6:55 am! And the kids are all still asleep, although I can hear some stirring of little limbs.
Yesterday my front lawn was littered with children.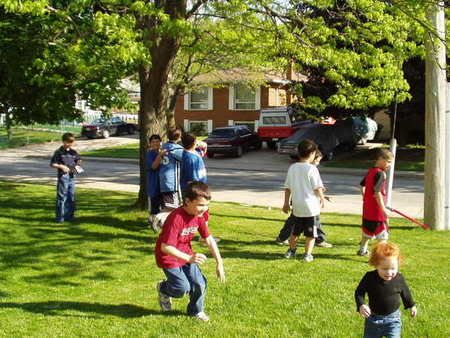 Here is Lucy getting a ride in her royal vehicle from her ladies in waiting, Julia and Paulina.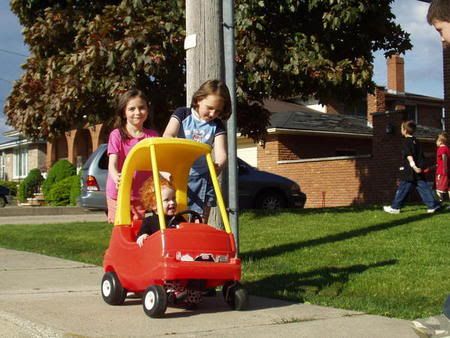 Of course I got the boys to make a pyramid for my personal fun and amusement.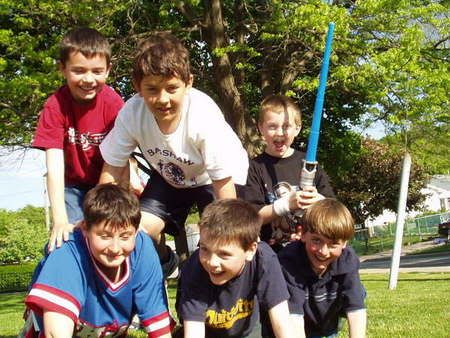 And then I made them hold one leg up to see who could do it the longest. Then we had races.
Now. I am not usually outside like this with the kids. I am like most other parents, except a little bit lazier, I think. I like to hang in the house and hope that nobody bugs me just like everyone else.
But I am noticing that with Monty being older and wanting to be outside, and Lucy just loves being outside, that my 'house time' is seriously being cut back. Wahh!
It's probably a good thing. Gets me off me arse, off the phone, and engaged with the kids.
At least until the little ones are older and can play outside by themselves. Then I am back in my lair with a vengeance.
A.
A.