The Vamps
I got a little 2 cd set yesterday at a thrift store. It's called "The Vamps" and I am loving it. It has all these quirky songs done by Judy Garland, Peggy Lee, Marlene Deitrich, Lena Horne, and the like. It is darling and charming and bee-boppy and I like to pull up at stop lights and roll down the windows and have Marlene belting out, "You GO to my HEEEAAD, Like the Bubbles in a GLASS of CHAMPAGNE".
Our trip was awesome. Wow, setting up a trailer with no kids there is like, easy. And cooking is very easy, when your husband does it all, eggs in the mornin and barbecue at night, even the dishes after, he is a lovely tidy thing and I think I will keep him. We loved the little town near the conservation area! It looked like this when you crossed the bridge to get in.
I know. Swan!
And the park was really nice. Really nice! And we went tubing. But it was a bit rough and I feared for me life just a bit and once down the gorge was quite enough, thank you very mucha.
I took this pic at the Quarry, it was just neat to see this group of kids on the rocks.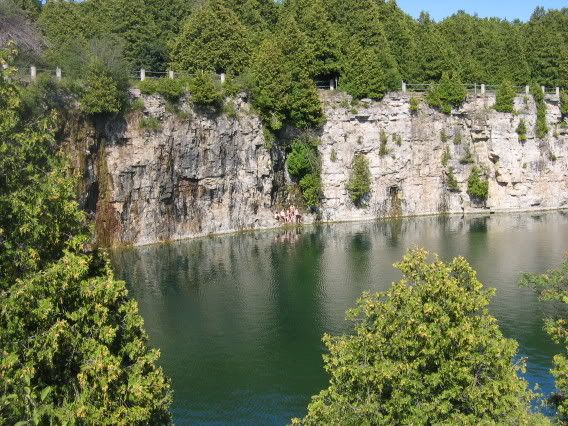 And now I must go. Some children are NOT settling to bed so I need to go and pull a heavy.
Ciao!