Kids! They Make You Laugh.
The other day I went to Costco with Monty. I was pleased with myself, for I only bought food items, because usually I go to Costco with the intention of getting food, but somehow end up with a book, a huge package of gel pens and a pair of capris too. This time I restrained myself. (Okay, I did buy one pair of capris for $13.99.) But the rest was food! And food is essential!
Whew. Okay. So I am driving home and Monty starts talking in the back seat. He says,
"I'n a Mama, mommy."
"That's nice, honey."
"No, mommy! I'n a big fat mama."
"Monty. It's not nice to say fat."
"But I am! I'n a big fat mama. Look."
"What?"
"Look at me, mommy! Like the video store!"
"Video store? What about the video store?"
"I'm a big fat mama like the video store. LOOK!"
So I look.
Scroll down to see what I saw in my rear view mirror.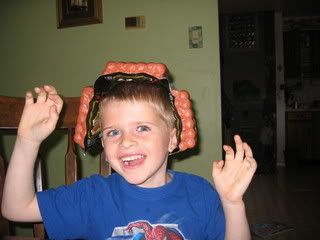 My triple package of hot dogs, on his head. Like the curlers on Big Momma's hair on the video poster for "Big Momma's House".
I almost drove off the road, I laughed so hard.
What a kid.
A.