Lovely To Look At, Delightful To Hear, and Heaven to Know
Happy Valentines Day!
I love old valentines. Here's one.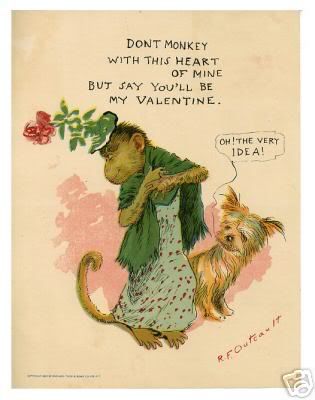 When I was little I loved
Erik Estrada,
Michael Jackson,
Luke Duke.
When I got bigger I loved
George Michael,
Simon LeBon,
Gene Kelly,
Judd Nelson. (Remember how he smoldered in The Breakfast Club?)
Jay.
In my twenties, I had crushes on
Steven Tyler,
Grant Show (Jake from Melrose)
Sam (my big boy),
Michael Flatley (I know, huh?),
In my thirties the winners are
Monty, Lucy, my dad, my momma, Jay, Sam, my sibs, my friends, my family, even my in-laws.
And my bloggers. And myself, most days.
So consider yourself smooched. I have found that the more open my heart, the easier it is for love, and life, and good things, to flow back in.
A.