Hey! My new profile pic is up! That is me August 17, 1996, getting annoyed with how the bouquets were turning out. What a brat.
Can I say i am not done shovelling yet? Jay has been sick so I had to be the man of the house, went out yesterday aft and shovelled hard for almost two hours, then went out again after the smaller kids were in bed for an hour and a half. And there is STILL this big ole patch o snow between the vehicles, about 10 feet by 6 feet, and 20 inches high. I think our house was a snow magnet.
Here is my shovelling partner.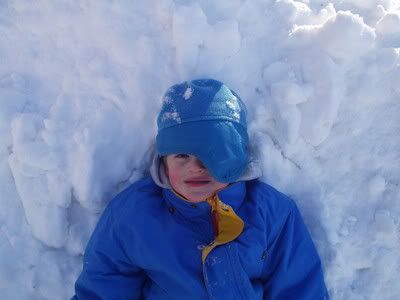 He didn't really do his share. His gloves were bugging him alot, so he kept taking them off. Then his hands got cold, so he was crying alot. Then I took him in. Then he cried at the window like a child on the back of a train saying goodbye to his family forever. So I brought him back out. Then he got stuck in about seven snow banks. Then we looked for his shovel. Couldn't find it. So he um, cried.
Sammy built a wicked snow fort himself. He got me to take this picture before school today.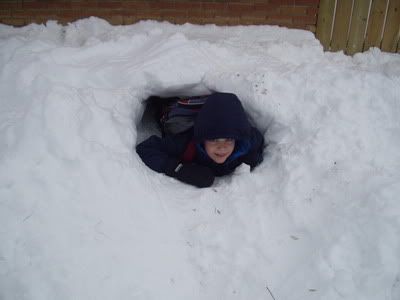 Winter can be kind of fun.
Except for that 10 by 6 item I was talking about earlier.
Oh well, as my neighbor Bruno says, "AT LEAST YOURE GETTING YOUR EXERCISE, EH? HAHAHAHAHAHAHAH!"
Then I am shovelling and thinking, 'How big DOES my butt look in two pairs of pants?'
Ciao.
A.