BUSTED.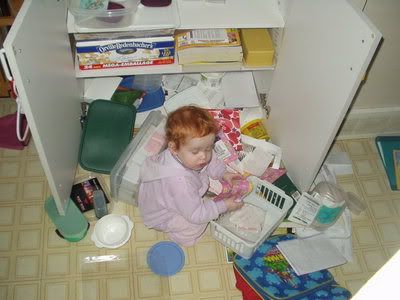 "I have a little hobby and my name is Lucy Loo,
When my momma's busy let me tell you what I do,
I go to this great cupboard and break open the lock,
And dump it all out on the floor, tell me I don't rock.
My silly ma thinks she can get away with doing other things,
Like laundry or talking on that weird device that rings,
I have a kid-sense and I know the best time to make a mess,
And I tell ya, what a howl to watch her get all stressed!
She says, "Oh Lucy! What'ja do?!" and I smile my nicest smile,
And how great is this? She picks me up and hugs me for a while!
I have this feeling it's cause I'm little I can do this stuff,
But when I get big like my brothers, man the jig is UP!"