Recappage
So Christmas Eve was a hub of activity, from work at the mall to home getting kids cleaned up and presents wrapped and then driving out to my parents place. Which was real nice. Sam played piano and violin almost the whole time.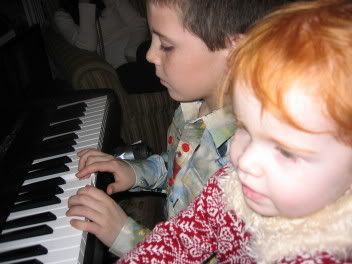 And all the little grandkids ran around like fancy little pinballs. Cute.
And then home again to pop them in their beds and then Jay and I power-wrapped till midnight.
They slept till 730 Christmas morn! It was hilarious listening from my warm cosy bed to Sam and Monty running around and shouting with glee about stockings and things under the tree that weren't there the night before.
The biggest hit were the cups I got for Monty and Luca, one Pooh, one Chicken Little. They carried them everywhere.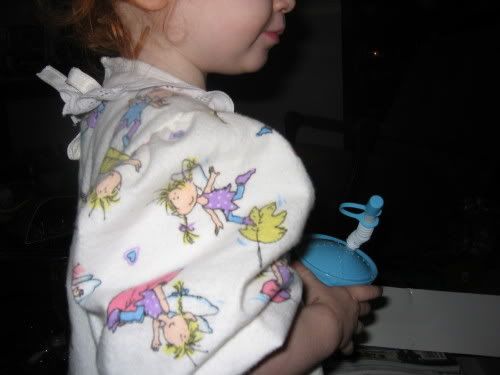 Note the close up detail of Lucy's first nightgown, made with love by her grandma who should really check into sewing rehab soon. Thanks, mom.
She also made pajamas for Eggbert and Sammy.
These kids did not get out of their pajamas for whole Christmas day.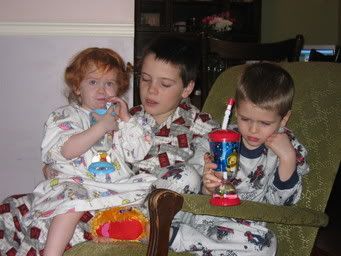 It was lovely. Jay made an enormous, pajama bursting brunch and we all said grace and tucked in. And for the rest of the day we nibbled on leftover bacon and sausage and Turtles chocolates.
Boxing day we had a nice turkey dinner at my SIL's. Yum.
Fast forward, please, to New Years Eve. Because it was a non eventful, relaxing and quiet week between. Jay had a cold so we didn't get out much. He was off all week and did a real nice job keeping my kitchen tidy. I miss him loading and unloading the dishwasher.
NYE we went out! Whoo hoo! Packed up three little suitcases and carted the kids off to my parents for the night! And went out to dinner with fourteen other people to a gorgeous restaurant!
Oh, you wanted to know what I wore? No problem.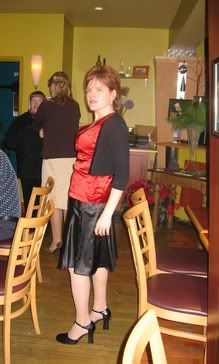 See how good a person can clean up when there is only that person to get ready?
Everyone came back to our place afterward, to ring in the new year. It was great.
And now I must go!
Promise I won't wait a whole nother year before blogging again.
A.