Flowers in the Attic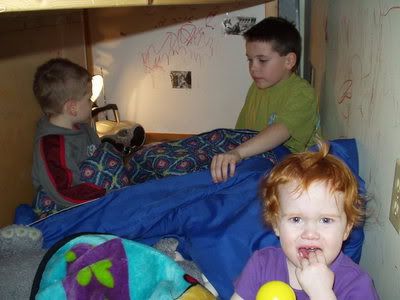 This is where I put 'em if they are gettin me hectic.
Nahh. This is THE FORT. The space under the bed in Sammy's room and behind the dresser. When the kids are getting along, they spend an hour or two in here. Sam makes up some sort of 'club' and they work on 'papers for the club'. First it was a Spiderman club and they had little membership cards and put up pictures of Spidey and brought in spidey paraphenalia (sp). Another time it was 'Lucy Land' and they brought in pics of Lucy and all her favorite things. It has also been Sonic the Hedgehog club and Switchfoot club. And they bring the little cd player in there and play whatever theme song applies.
Love it. Well, Lucy sometimes is kept in there a little too long for her 20 month attention span (see pic) and almost always there is a small eruption of feelings over magic markers or someone sitting on someone else's leg. But over all, I am an advocate of the fort. Hey, three kids in one place being relatively quiet is pretty much as good as it gets.
And FYI, Lucy was just a little past her expiry date here, and didn't want me to take pictures but wanted "Yeeuwccee BubbA!" (lucy bubba)
A.