Divine Snackeroo.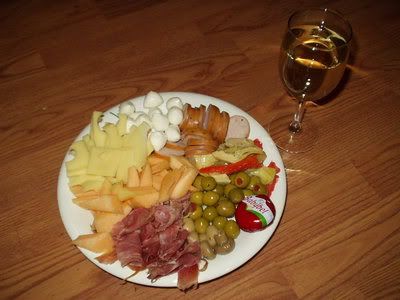 This is what my food will look like in heaven. I will sit down at the table and there will be unlimited olives and baby bocconcini cheeses.
Starting from 12 oclock at the darling white baby boc's, we go clockwise to Denningers turkey keilbasa, then marinated artichoke hearts and olives, which are very biblical! There is a babybel in there too for style and color. Then we have some marinated mushrooms, some razor thin slices of proscuitto ham, and some short spears of cantaloupe. Finishing off this delightful plate is some Emmenthal swiss cheese. And to the right of the plate is a single glass of Sawmill Creek Reisling 2002.
I tell ya. It don't get any better for me.
Happy Saturday to all.
A.