Anniversary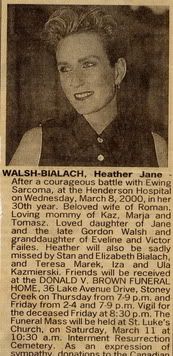 Tomorrow it will be five years since my friend Heather died.
You should have known her. She was great. We met on the first day of grade nine, in Mr. Doan's geography class. I had impetigo scabs on my face and she acted like she didn't even see them.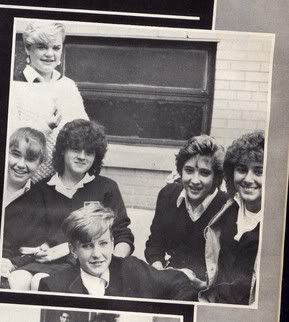 This is a pic from our 1984 yearbook, taken in those first few weeks of grade nine. I am the one with the v-neck and bad perm and Heather is in front of me, wearing her mom's Liz Claiborne jacket.
At 28, she was diagnosed with Ewing's sarcoma, which is a bone and connective tissue cancer. She fought it for a year and a half. When she died her three kids were 3, 6, and 8. And she had been married to her sweet husband for about nine years.
When she was going through chemotherapy, I wrote her a poem and sent it to her.
Heather
I had never even heard of a fondue party.
We were fourteen, and hapless,
And ate our lunches outside even when it got cold.
Our white knees would be purple, teeth chattering
Around barbecue ringolos, talking about everything,
Nothing, everything.
You were what I wanted to be.
Tall.
Blonde.
Worldly.
You had been to Europe.
You knew how to insert big words right into conversations.
You wore your mother's clothes with ease.
Your eyes, your big blue frightened eyes, when that car ran into you in front of Cloverdale variety, and you didn't want them to cut your new school socks.
We were two in a group. But I always considered you mine.
Where you live is always beautiful.
You make it so.
With a collage of pictures, with folds of fabric,
With that plaster hand you made holding balloons.
Your real hand I held as we leapt down the West Fifth stairs one warm summer night.
Did our feet even touch the ground? I can't remember.
Your hands are magic. I still see them create.
When you wrote that essay about how we are all different and special, how every baby calf has it's own unique hooves. How God never makes mistakes.
When you put on perfect make up,
And after, when you danced.
Your hands, holding out bouquets of red red roses to us on your wedding day. And your hands, smoothing your new husband's jacket just before a picture.
When you buttoned up Kaz's teddy bear jacket (the one you made), and then touched his cheek.
Once, too long ago,
We were out on a walk and Marja was digging into the mud with her little hand. I thought for a moment of her new outfit and how you might want to keep it clean.
You just smiled at her and said to me, rubbing your thumb against your fingers- "I love the spring because you can feel how the ground is getting soft again."
I speak of you often, to others.
I admire your handling of your life.
Although we drift in and out of each other's lives,
When we're apart I always miss you fondly.
When we're together I feel fortunate.
And either way, I am always grateful.
She called me as soon as she got the poem (by mail, because she was really sick at the time and they didn't want anyone bringing germs around) and said, "I love my poem! I cried! And then I gave it to Roman and he cried! And then I gave it to my mom and she read the part about her clothes and said 'What's this?'!"
Ah, Heather. Not sure of whether she would make it until Christmas that year, but still bringing light into the lives around her.
Aw, man, now I'm crying. I miss that gal. I wish she could have met Monty and Lucy. I wish I could call her and tell her that she taught me more than anyone what it is to be a good mom, a good wife, a good person, without ever preaching a word. By just living her life in her strong, sweet way.
A.