We had a Great Time.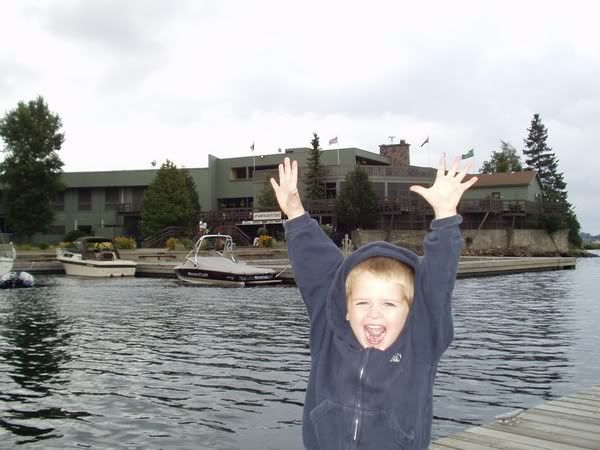 It was a really awesome week! We swam and canoed and kayaked and ate (too much) and walked and slept and read and made sand castles and played mini golf and chilled out and I give the Delawana Inn and Resort two very big Thumbs UP.
Personally, I managed to read two whole books. I got two massages at the Wanakita Spa. Jay and I went for walks and a pontoon boat ride together. Sam actually has a golf swing now. Monty had a blast at his caterpillars camp. Lucy got fatter from all the lovely food. (Actually, I think all the Forderers got fatter!) Our room was really cool, with a screened in porch overlooking the lake. It is a beautiful resort, tons of fun things going on and really nicely taken care of.
We would totally go again. It was a great vacation and can I say that the only dishes I did were four bottles a day in the bathroom sink? And two little loads of laundry which was lovely because I put them in and then climbed all by myself onto this big rock over the water and read my book? And when we left in the morning our beds were made when we got back! Whoopee!
Now, of course the kids had their little flare ups and I almost had a conniption fit when we went on this sunset cruise with them because I could see monty falling overboard every five minutes. But all in all, a fantastic time. The only things I forgot to pack were my bathing suit and Sam's underwear. Which was no biggie for me because that meant I got to go to a shoppe in Honey Harbour and buy a new suit. And as for Sam, when you are eight and can wear swimming trunks everyday, underwear are the last thing you are worried about.
The food was insane. Glorious buffets every morning and evening, beautiful dining room with smart looking servers who were very accomodating. As I was smothering my second breakfast of belgian waffles and strawberries with fresh whipped cream I could not help thinking how nice it would be to be rich. Except that you would weigh three hundred pounds.
We went on several kinds of boats- pontoon, speed boat, cruise ship, kayak, canoe, paddle boat.
It was just the thing for jay to be able to sit on a bench and read his Stephen Ambrose and think nothing of work for a week.
Well, it is back to life, back to reality right now and I can hear that there is some dismantling going on in Monty's room right now so I better go investigate.
Have a great day, all.
A.